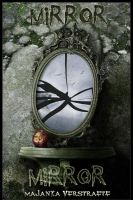 Synopsis:
When seventeen-year-old Piper discovers an antique mirror in the attic of her new home, she has no idea what horrors that mirror is about to bring her and the people she loves... Eerie shadows lurking in her bedroom and estranged voices in the dead of night are only the beginning. Piper and her friends must find a way to solve the mystery surrounding the mirror before it makes it next victim...
My thoughts:
When I read the synopsis, I knew I had to read this book. I like creepy. And this definitely did creep me out. Piper falls in love with this antique mirror, but when her friend says she gets an evil vibe from it, Piper starts to see and hear things that scare her more than she wants to admit. Verstraete wove a great story here with plenty of twists that you don't see coming until they hit you, but then all the pieces she crafted together along the way suddenly become clear. That's just great writing. And the ending... well, I won't give any spoilers, but awesome! If you like paranormal or horror, read this book.
Just for fun:
If you had an antique mirror that you thought was evil, would you keep it around long enough to find out for sure?