Today, James Hutchings, author of The New Death and Others is guest posting about writing short fantasy, so without further ado, here's James: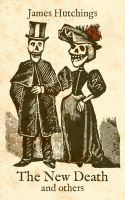 I think that when you say 'fantasy', most people get a specific picture; huge books, probably a series of huge books, set in an imaginary, medieval-like world (maps of which are at the front), in which a humble hero gets caught up in a battle for the fate of that world...all very much based on the template set down by Lord of the Rings, perhaps as interpreted by games like Dungeons & Dragons and World of Warcraft. I like Tolkien, but I think he's overshadowed a lot of other styles of fantasy which I think are just as interesting. 
 I mostly write short stories. Often they're very short; three hundred words or less. I'm very influenced by Lord Dunsany. He's not very well-known now, but at one time he was one of the 'greats' of what we now call fantasy fiction. Although he wrote longer works, he did a series of very short stories which often had allegorical characters such as Death and Fame. One of his most famous books is 'Fifty-One Tales', which is now in the public domain so you can find it for free online. 
I've included a story that I wrote which is written in a Dunsany-like style. It's probably not going to make anyone throw away their Game of Thrones collection, but at least I hope to show people that there are other ways to go about it. 
THE GOD OF THE POOR

 
In the beginning of the world the gods considered all those things which did not have their own gods, to decide who would have responsibility and rulership.

 
"I will rule all flowers that are sky-blue in colour," said the Sky-Father.




"I will listen to the prayers of migratory birds, and you all other birds," the goddess Travel said to him. And so it went.

 
At last all had been divided, save for one thing.




"Who," asked the Sky-Father, "shall have dominion over the poor?"

 
There was an awkward silence, until the Sky-Father said,




"Come - someone must. Those with no gods will grow restless and cunning, and in time will cast us down, and we shall be gods no more."

 
"Not I," said blind Justice, and her stony face flashed a momentary smirk at the thought. "Why not Fame or Fortune?"
"Darling I don't think so," said the sister goddesses together.

 
There was a long pause. The gods shuffled their feet and avoided one another's gaze. At last a voice broke the silence.

 
"I will," said Death.
Thanks, James! You can check out James's book here.
Your turn. Do you write short stories? Could you write a 300-word fantasy?